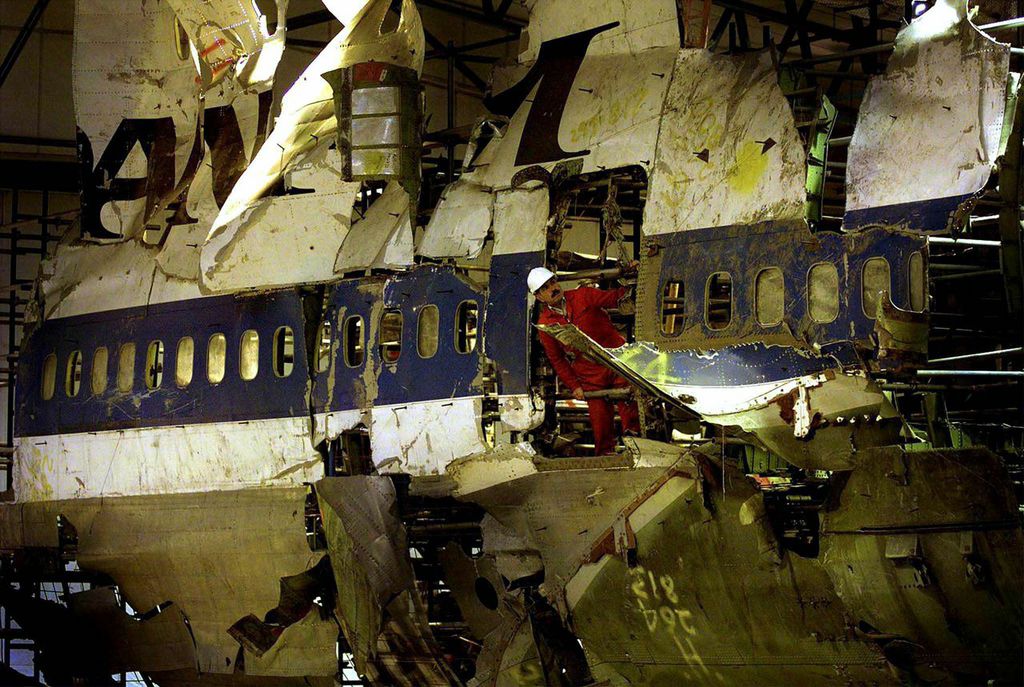 The bombing of Pan Am Flight 103 was a crime of unprecedented proportions - a truly global catastrophe with victims from 21 different countries, and an average age of 27 years old. It spurned a groundbreaking, multi-national investigation that took 3 years to complete.

The crime occurred on December 21, 1988, when a bomb hidden in a suitcase exploded 38 minutes after the New York-bound flight took off from London's Heathrow airport, breaking the 747 jumbo jet into pieces that rained down on the picturesque town of Lockerbie, Scotland. In total, 270 people were murdered, including 11 Lockerbie residents.
Occurring more than a decade before 9/11, the bombing of Flight 103 heralded the dawn of the frightful era of terrorism that we live in today.
 
A worker inspects the reconstructed fuselage of Pan Am Flight 103.
It was three days before Christmas, 1988. Aboard the plane were groups of students returning home from a semester abroad, men and women returning from business trips in London, entire families on the final legs of their vacations.

In the town below, Lockerbie residents were just sitting down to dinner, or settling in for a quiet night in front of the TV, unaware of the terror that what was about to rain down upon them.
Some of the victims of Pan Am Flight 103.
Like many relatives picking up their loved ones at the airport, Jeannine Boulanger learned of the plane going down upon arrival at the Pan Am terminal, in full display of the world's media.
 
Jeannine Boulanger, mother of victim Nicole Elise Boulanger, 21, collapses in cries of grief at JFK airport on December 21, 1988.
 
DEVASTATION IN LOCKERBIE

Top left: Field outside Lockerbie, where the nose section of the plane landed, still containing a portion of the business class section as well as the cockpit, with the pilots and crew still in their seats.
Right: Rosebank Crescent, where a large section of the plane, still containing dozens of passengers, fell behind several homes, miraculously killing no one on the ground.
Bottom left: The crater made by the massive fire from the plane's wing section at Sherwood Crescent. Some houses were destroyed to the point that there was no evidence that they had even existed. All of the 11 Lockerbie victims came from this neighborhood.
Because the airliner exploded six miles above the earth, the crime scene became the largest in history, spanning a total of roughly 845 square miles across rural Scotland. Jurisdiction of the investigation initially fell upon the smallest police force in Scotland, the Dumfries and Galloway Constabulary. The investigation would later grow to include Scotland's national police force as well as the United States' FBI.

Scottish Police combed through vast swaths of countryside after the bombing, looking for any evidence in cracking the case.
Police made the announcement seven days after the bombing that explosive residue had been found in a luggage container from the plane's cargo hold. In that moment, the case of Pan Am Flight 103 officially turned from an unexplained air crash into a mass murder investigation.

New York Times headline from December 28, 1988.
Remnants of the luggage container police determined to have carried the bomb suitcase aboard Pan Am Flight 103.
The efforts of the Scottish police to collect evidence were not in vain. In a feat of old-fashioned forensics and detective work, they were able to find a small fragment of a sophisticated timing device that had been manufactured by a Swiss company and sold to Libya.
The fragment had been fused to a piece of clothing investigators found in the fields around Lockerbie, and they were able to trace back to a small shop on the island of Malta.
Fragment of timing device found fused into piece of clothing (top left). Mary's House, the shop on Malta where the piece of clothing had been purchased (right). Remnants of the Yorkie clothing label that was found with the timing device fragment (bottom left).

Investigators would later determine the plastic explosive bomb had been built into a Toshiba radio cassette player and placed in a hard-shell Samsonite suitcase in the plane's forward luggage hold, and that it had been aboard two previous connecting flights before the ill-fated last leg of Pan Am Flight 103.
The plane was about to head over the Atlantic Ocean. Had the bomb exploded any later than it did, all evidence of the crime would likely have been lost.
Replica of the Toshiba radio Cassette player that the bomb was built into.
Hardshell, brown Samsonite suitcase similar to the one that carried the bomb aboard Pan Am Flight 103.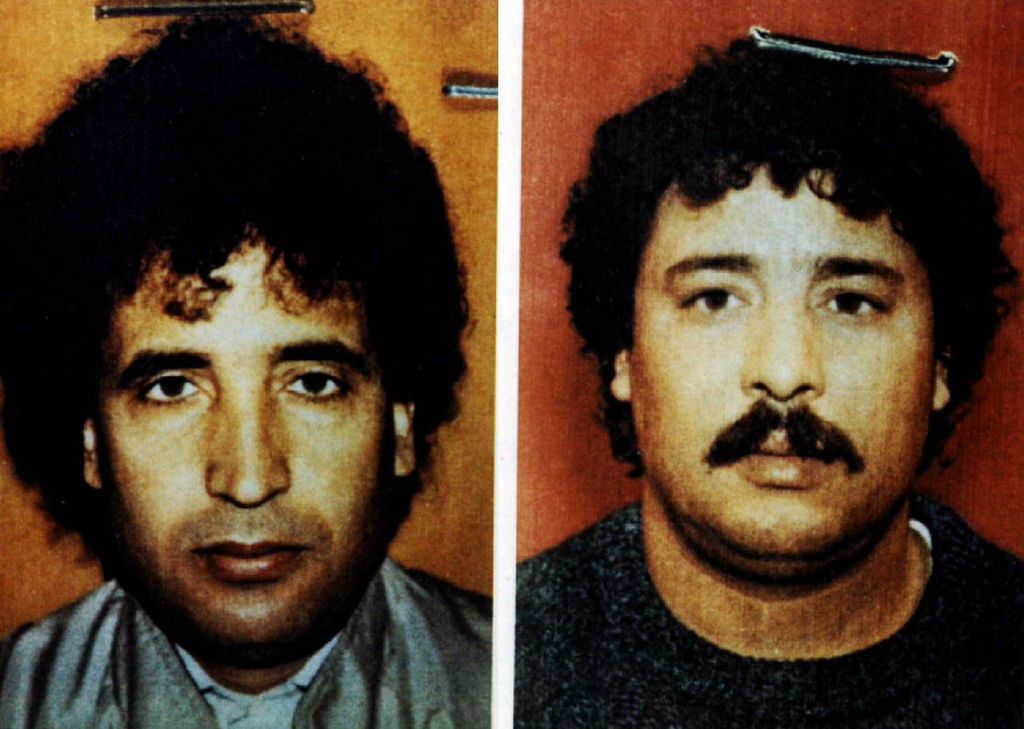 On November 15, 1991, joint indictments were announced by the United States and United Kingdom for the crime. The indictments were issued for Abdelbaset al-Megrahi and Lamin Khalifah Fhimah, whom prosecutors charged were Libyan spies responsible for the bombing.
Abdelbaset al-Megrahi (left), Lamin Khalifah Fhimah (right).
Colonel Muammar Gaddafi had come to power in 1969 during a rebellion in Libya. Originally seen as a force for change, Gaddafi would eventually become an internationally known pariah; an unstable dictator who exacted revenge upon those who wronged him, including his own people. He also exploited his nation's vast oil resources, amassing a huge personal fortune while Libyans starved.
During the 1980s, Libya became known as a participant in several terrorist acts, including the 1986 bombing of a Berlin discotheque frequented by U.S. servicemen, in which three people were killed. U.S. president Ronald Reagan bombed Libya with airstrikes following the Berlin attack, killing many Libyans including Gadaffi's adopted daughter. Gaddafi vowed revenge on Reagan and the United States.

A monument in Tripoli commemorating the 1986 U.S. airstrikes against Libya, with a clenched fist crushing a U.S. fighter jet (top left). LaBelle Discotheque in Berlin following the 1986 bombing (right). U.S. president Ronald Reagan (bottom left).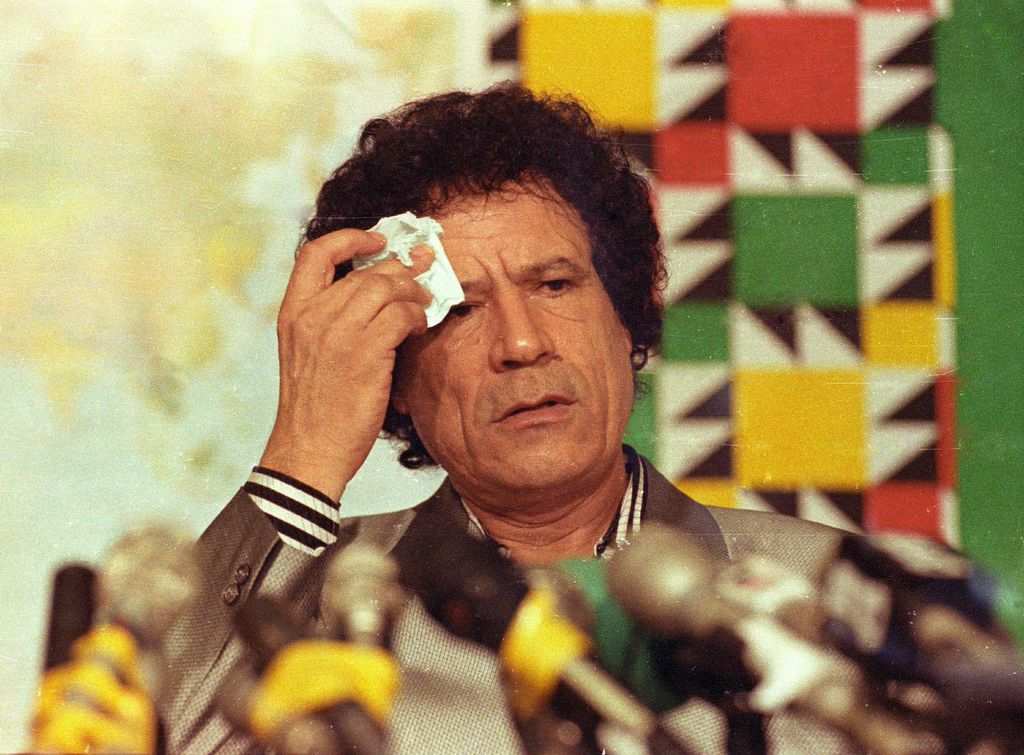 The United States had placed strict sanctions on oil-rich Libya in 1986. After the indictments for Pan Am Flight 103 were issued in 1992, the United Nations also issued its own sanctions, further isolating Muammar Gaddafi in an effort to pressure him to release the two suspects for trial.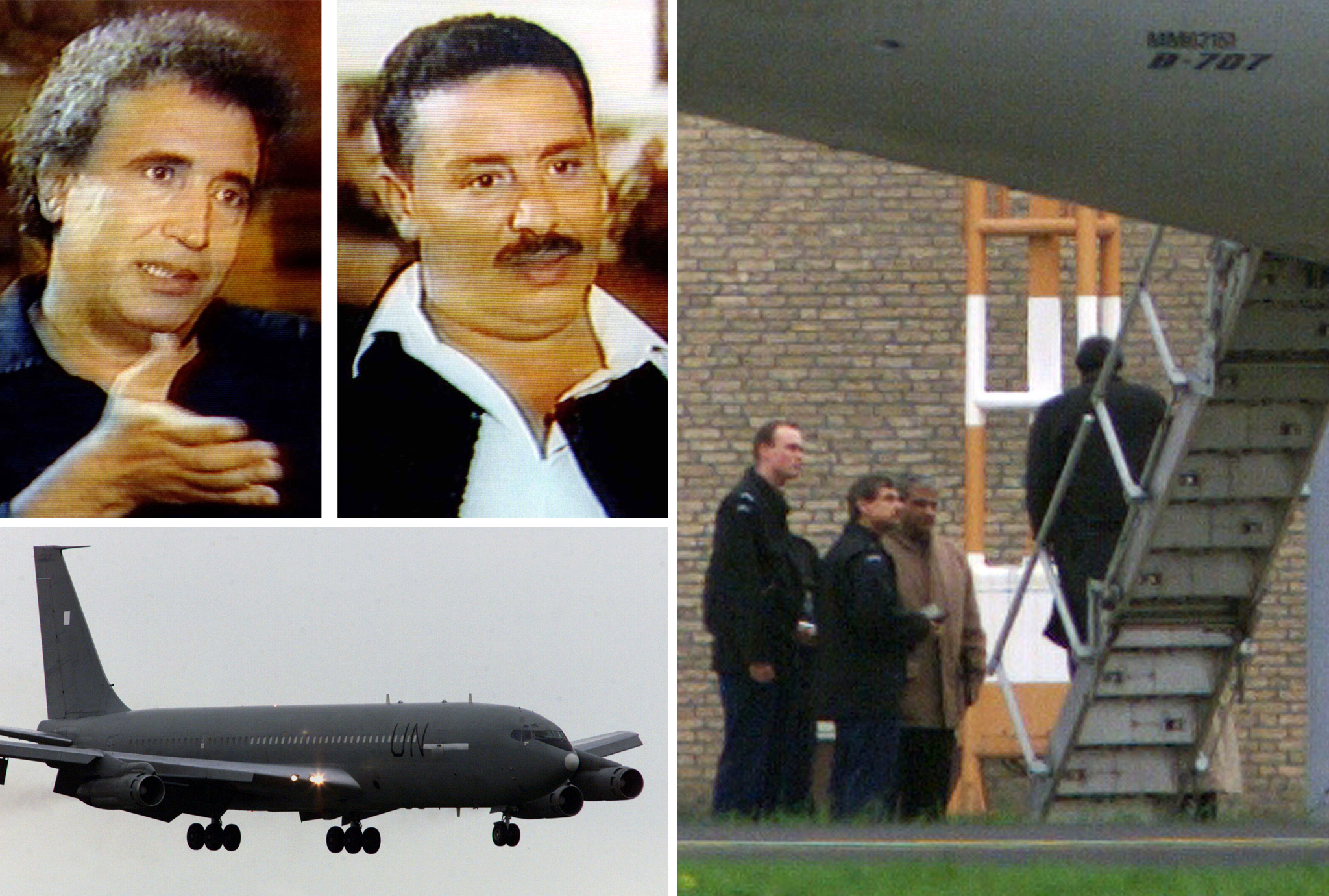 After years of impasse, Gaddafi caved to international pressure and agreed to allow the suspects to stand trial for the crime in a Scottish court in a neutral country. They were handed over in April 1999, and placed under arrest at the site of the trial in the Netherlands.


A U.N. plane transports the two men accused of the Lockerbie bombing to the Netherlands (bottom left). Abdelbaset al-Megrahi and Lamin Khalifah Fhimah appear on television interviews before being handed over (top right). They are arrested upon arrival in the Netherlands (right).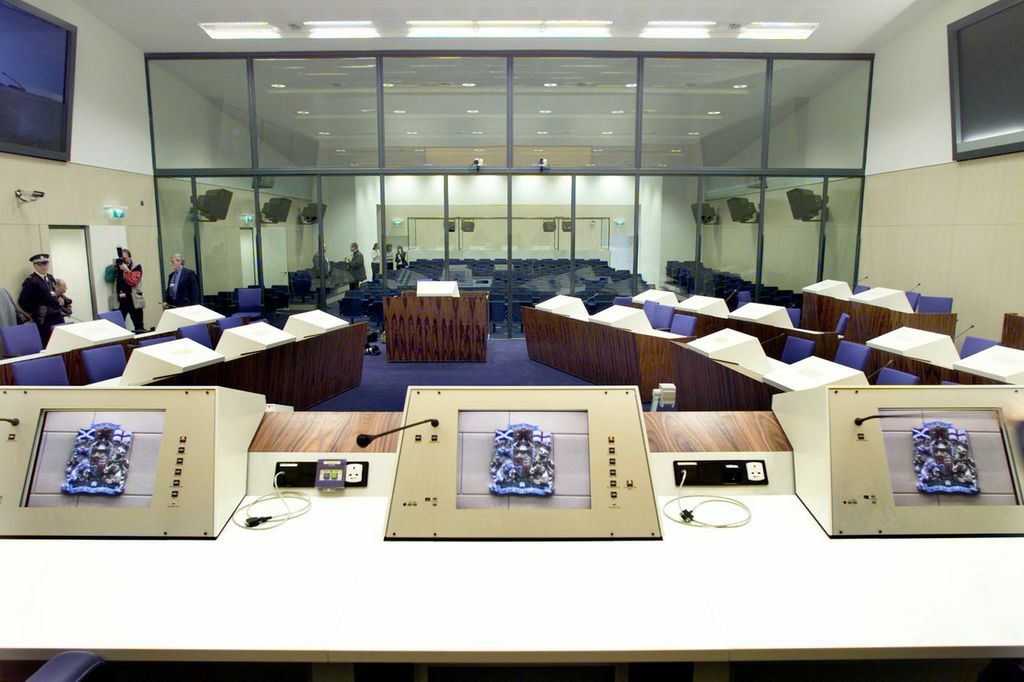 In an unprecedented legal arrangement, the venue of the trial was Camp Zeist in the Netherlands, a former U.S. military base that had been turned into a Scottish territory for the duration of the proceedings. The trial was held in a special courthouse built on the site, with enough room to hold large amounts of Flight 103 victim family members. Live video feeds were also provided in New York City, Washington D.C., London and Lockerbie, for family members who could not make the trip.
Interior views of the Scottish courtroom built specifically for the Pan Am Flight 103 trial at Camp Zeist, Netherlands.
Scottish police guard the courthouse at Zeist, Netherlands, which had been declared as a sovereign parcel of Scotland for the duration of the Pan Am Flight 103 trial.
Opening arguments of the Pan Am Flight 103 trial began on May 03, 2000, and lasted 36 weeks. Presiding over the trial of the two Libyan men was a panel of three Scottish judges. An additional judge served as an alternate.
Sketch of Megrahi and Fhimah in court (top left). The three-judge panel, with one additional alternate, during proceedings (right, bottom left).
On January 31, 2001, the judges handed down their verdict: guilty for Megrahi and "not proven" for Fhimah, who returned home to a hero's welcome in Libya. Outside the courthouse, jubilant family members rejoiced at the end of a long journey. Justice for the victims of Lockerbie had finally come.
The scene outside the courthouse at Zeist on January 31, 2001 (top left). Family members embrace after the reading of the guilty verdict for Abdelbaset al-Megrahi (right). Lamin Fhimah returns home to a hero's welcome in Libya with dictator Muammar Gaddafi (bottom left).
Megrahi was sentenced to life in prison, which in Scotland has a limit of 27 years. This translated to just over month for each victim murdered in the bombing of Flight 103. He applied for an appeal of his conviction to a panel of five Scottish judges at Zeist, but the appeal was denied in 2002.

Announcement of the decision to uphold the conviction of Abdelbaset al-Megrahi, on March 14, 2002.
The United Nations lifted sanctions on Libya in 2003, after the nation accepted responsibility for the Lockerbie bombing and agreed to pay the families reparations totaling $2.7 billion dollars - $10 million for each victim killed. Libya was finally able to capitalize on its vast oil resources; a defiant Gaddafi had been taken in from the cold.

The U.N. votes to lift sanctions against Libya on September 12, 2003 (left). Muammar Gaddafi (right).
U.S. Secretary of State Condoleezza Rice visited Libya in 2008 and met with Gaddafi. This marked the first time in half a century that an American official visited the Northern African Nation. British prime minister Tony Blair also visited Libya and met with Gaddafi in 2007. Both nations would eventually sign trade agreements with the rogue nation, despite the fact that it was responsible for the murders of 189 Americans and 43 Britons in the bombing of Pan Am Flight 103.
In August 2009, 21 years after the bombing, the crime again became front-page news with the release of Abdelbaset al-Megrahi from a Scottish prison, on the grounds of compassionate release. Doctors claimed he had less than three months to live, and that he was suffering from prostate cancer. The decision to release Megrahi was made by Scotland's Cabinet Secretary for Justice, Kenny MacAskill.
August 20, 2009: Scottish official Kenny Macaskill announces the release of Abdelbaset al-Megrahi, the convicted Lockerbie bomber (left). A police caravan transports al-Megrahi after his release from Greenock Prison, near Glasgow, Scotland (right).
RELAX BEFORE YOU FLY
Family members were outraged that a man who had blown up an airplane and murdered 270 people would be allowed to die at home. They suspected hidden motives in the release. "Don't kid yourself, this isn't about compassionate release, it is about the oil interests, with the governments in tow," said Susan Cohen, mother of 20-year-old Flight 103 victim Theo Cohen.

Convicted Lockerbie bomber Abdelbaset al-Megrahi boards a plane home to Libya following his release from Scottish prison on compassionate grounds.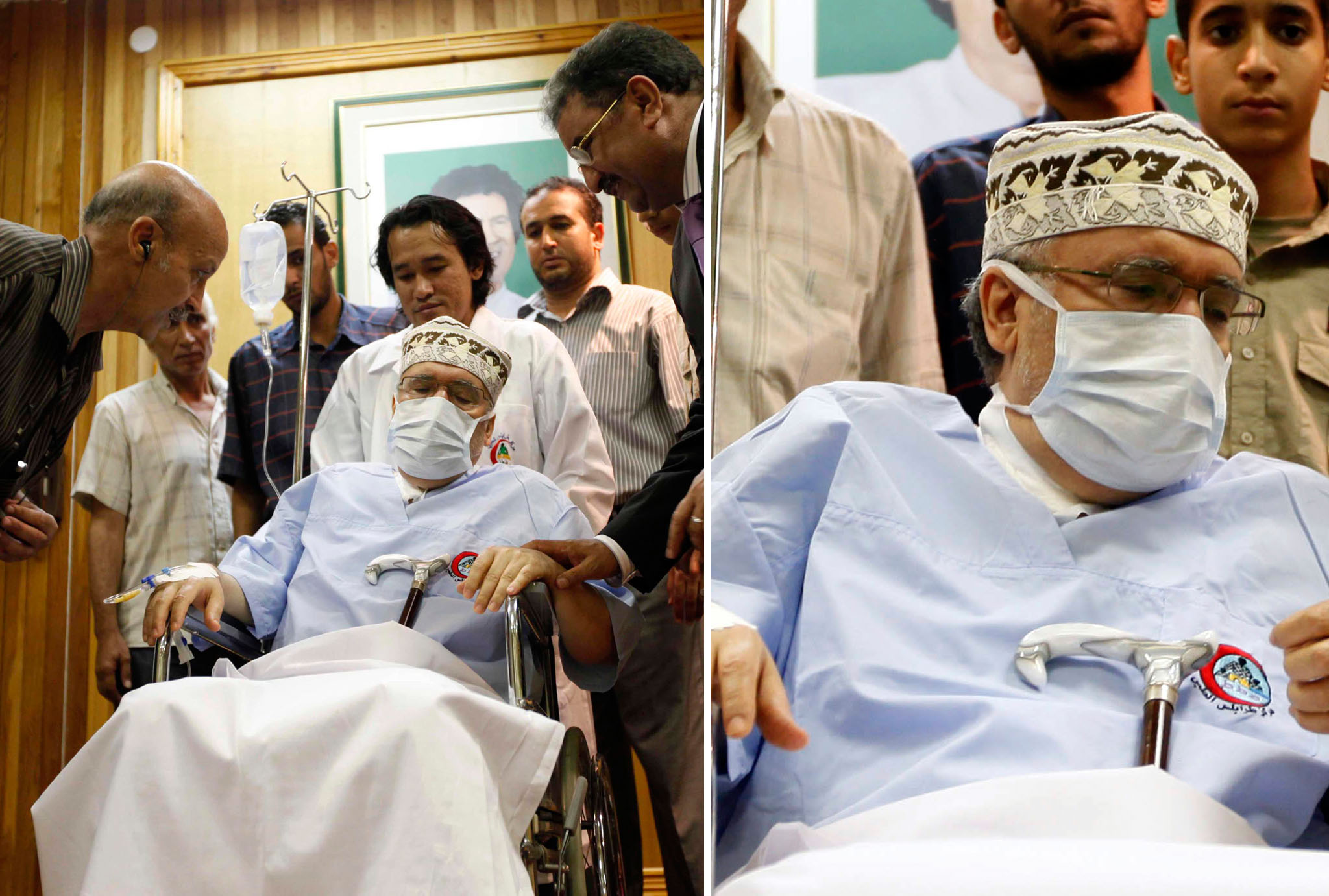 The families' outrage was only exacerbated when Megrahi went on to live for three years as a free man in Libya. He died in May 2012, surrounded by family - a luxury not afforded to his victims. He had served less than 9 years for the crime, equivalent to 11 days per victim of Pan Am Flight 103.

Abdelbaset al-Megrahi in Libya after his release.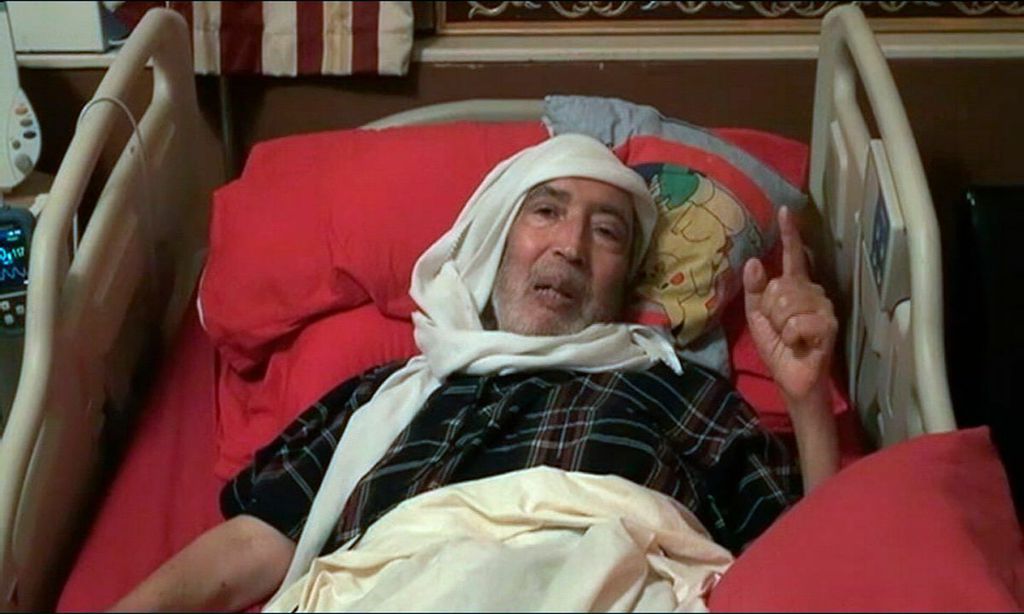 After the release, a medical report by Doctor Karol Sikora, a London-based oncologist who had been paid by the Libyans to write a review of Megrahi's case, was uncovered. The report claimed Megrahi was due to receive a course of chemotherapy in prison, a method of treatment that is not offered to cancer patients who are truly terminal.
"Justice and the rule of law were thrown out of the window for the sake of Libyan oil. And that disgusts me." says journalist David Rose, who uncovered the finding in an article for Vanity Fair.

Megrahi defends his innocence in a 2011 television interview, claiming that his name would be eventually be cleared in the bombing of Pan Am Flight 103. Although he died in 2012, his family is able to file an appeal to his conviction posthumously, through they have yet to do so.
In a surprise twist of fate, the winds of change swept through Libya during the Arab Spring movement in March 2011, and popular protests fueled by anger over Gaddafi's four-decade rule eventually overturned his government, forcing him to flee Tripoli.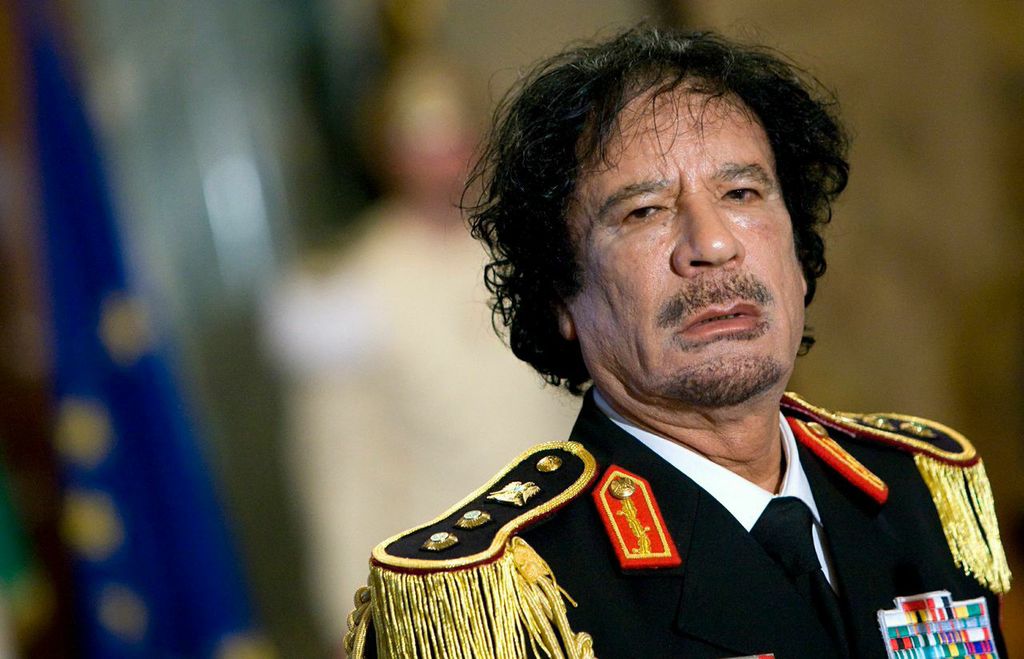 DEATH OF A DICTATOR

In October 2011, Libyan rebels found Gaddafi hiding in his hometown in Sirte and killed him instantly. Grisly images of his mangled corpse were soon broadcast around the world.
It was a stunning turn of events for a man who, only two years before had held a lavish ceremony celebrating his 40 years of rule in Libya.
THE CRIME